A Weather Diary of 2017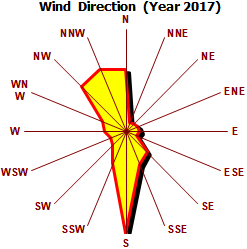 The year 2017 had an annual mean temperature of 11.8°C which was a little warmer than my estimated long term average and just slightly warmer than 2016. My warmest annual mean temperature was in 2014 with 12.1°C.
The year of 2017 was one dominated by rather benign and generally quite pleasant weather though the summer on the whole was not as consistently warm as 2016. There were no extremes of temperature except for two short 'heatwaves' in June and July with the former breaking the station record for the highest recorded temperature.
The year started with a rather average January temperature and rainfall wise but was sunnier than normal. Things warmed up and dried out a little February with the sunny theme continuing. The 2nd-half of February usually heralds a change to spring with warmer, sunnier and much drier weather and this year was no exception to that, with temperatures climbing to the mid-teens. Spring proper arrived in early March and gave a warmer than average month but sunshine levels were rather on the low side. Things changed in April with a switch to very dry and sunny conditions giving a rather glorious month, though the nights were unusually cold at times. There was a very rare, late frost on the 27th that caused some minor damage to the vines.
May often brings the first tastes of summer and this May didn't disappoint with a warm month after a very wet start on the 1st. Proper summer arrived on the 21st with temperatures climbing up into the 20s as skies cleared and the scorching May sunshine beamed down. June was another warm month but a few heavy downpours in what was otherwise a frequently dry month, pushed the rainfall total to well-above average. Still, it kept the grass green. There was a notable week-long hot and very humid spell around the summer solstice.
July started hot, sunny and dry. This hot and sunny weather continued up to the 20th then things changed to rather unsettled, cooler weather just in time for the main holiday season. It then seemed as if the summer was on a terminal decline with this generally cool, unsettled theme lasting right through August and well-into September. It wasn't all bad and there were plenty of warm, sunny days thrown in amongst the showers.
October often heralds the start of the rainy season but not in 2017. Whilst it did rain at times, this month offered a return to something quite summer-like. Balmy, bright days kept coming right up until the 28th. The dry weather continued well into November and the month ended up on the dry-side, it was also the first month of the year to be colder than normal but the compensation was lots of sunshine, making it the sunniest November in this station's record. The rains finally started with gusto in December but it still didn't end up that wet but as with November, the sunshine kept coming out and the month was sunnier than average.
What will 2018 have in store for us weather-wise? Well, the trend to ever-warmer winters seems to have resumed after a run of colder winters culminating in the severe December of 2010 and the winter of 2017/18 seems to be following that trend. I suspect that an average-to-mild winter will lead into an early spring. The weather over the last few years, seems to have 'settled' into a pattern of being dominated by lengthy dry spells with brief rainfall events. This semi-blocked, anticyclonic type weather with the Azores High being ever present to our south and west could bring a dry start to 2018 and the prospect of an early, sunny spring. It's all guess work! But fingers crossed for a beautiful, sunny spring and a long, hot summer, with maybe a thunderstorm or two to liven things up a little.